The Croton Reservoir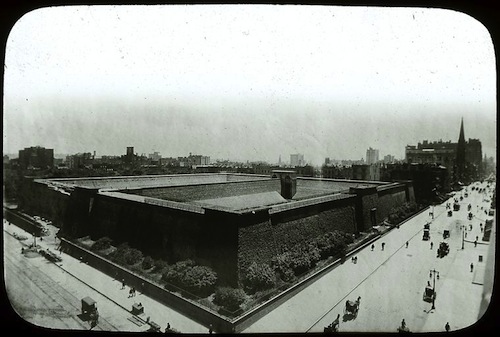 The reservoir, at Fifth Avenue between 40th and 42nd Streets, was the tallest thing in the neighborhood. Strolling around the edge must have been one of the strangest things you could do in the City. Edgar Allan Poe was a fan:
When you visit Gotham, you should ride out Fifth Avenue, as far as the distributing reservoir, near Forty-third Street, I believe. The prospect from the walk around the reservoir is particularly beautiful. You can see, from this elevation, the north reservoir at Yorkville; the whole city to the Battery; and a large portion of the harbor, and long reaches of the Hudson and East Rivers.
Incidentally, there is a drawing of Poe by the illustrator B.J. Rosenmeyer which depicts the writer crossing the High Bridge, backdropped by a gloomy winterscape. Poe lived, gloomily, in a cottage in the Bronx. He liked to cross the bridge—at the time the only bridge connecting Manhattan to anywhere—but never saw the tower: it was erected 20 years after he died.